Specialty Trades Construction Projects
Past Performance

NAICS Codes: 238110, 238120, 238130, 238140, 238190, 238210, 238220, 238290, 238310, 238350, 238390, 238910, 238990
Concrete Construction - Cast-in-Place, Pre-Cast, Foundations and Structures
Masonry, Dry-Stack and Veneer
Solar Engineering
HVAC Systems

---
Medved Global Inc.
Examples of our Dry-Stack and Veneer work.
---
Chimney Rock Retaining Walls in Chimney Rock, CO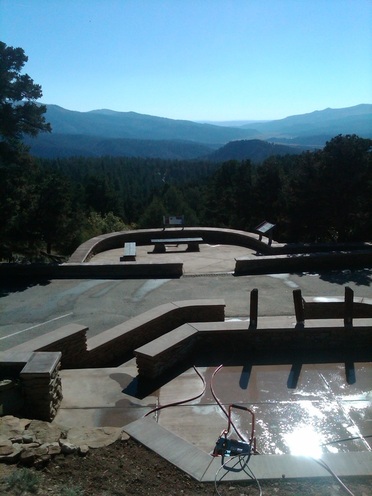 Project Owner: US Forest Service, San Juan National Forest, CO
Project Size: 2000 Sq. Ft of retaining wall
Scope of Work: The Medved Global team reconstructed and repaired over 2000 square feet of existing stone retaining walls located at the Chimney Rock Archaeological Area of the San Juan National Forest. This project included the construction of new retaining wall sections then topping all the walls with concrete caps.


"The chimney Rock project was conducted at a site listed on the State of Colorado's Register of Historical Places. This project required that construction activities be monitored by a Forest Service archaeologist . Mr. Nate Hicks and his staff were exceptionally cooperative and showed great care to ensure their activities did not disturb cultural resources. Their masonry and concrete work was high quality. Mr. Hicks and his crew showed great attention to detail and the final product blended in well with the existing stone structure." ~~ Mary J. Blanchard, P.E. Lead Civil Engineer
---

---
Accessible Walkway
Dewey Bridge Recreation Site on the Colorado River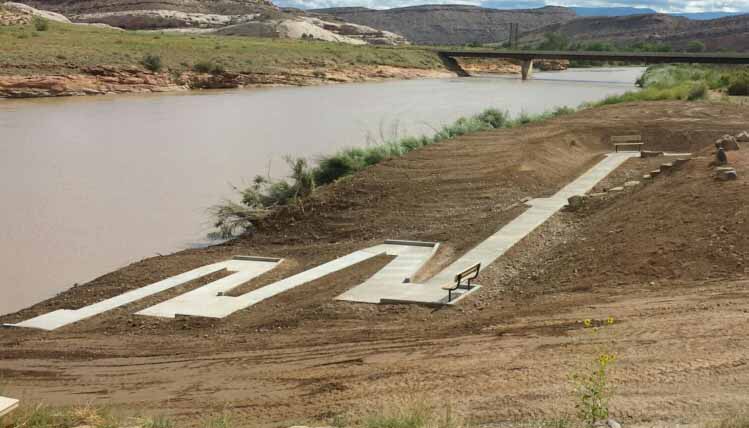 Project Owner: Bureau of Land Management, Canyon Country District Office, Moab Utah
Project No. L14PX00957
Project Size: Approximately 330 Feet of Walkway and a stone stairway
Scope of Work: The work included the construction of an accessible concrete walkway at an existing BLM recreation site along the Colorado River. We began with extensive excavation, shaping and contouring to prepare the site for the walkway. The walkway consisted of reinforced concrete and included an integral low wall. We also constructed a set of stone steps connecting the middle landing of the new walkway to the parking area above. The slope was excavated and shaped so that each rock was fully supported across its bottom surface with no voids. The project was completed within budget and ahead of schedule.


---
Howery Island Trail Repair in Montana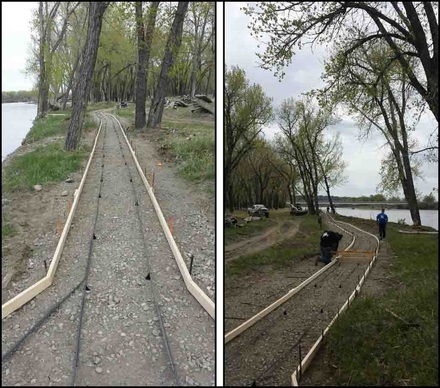 Project Owner: Bureau of Land Management, Eastern Montana/Dakotas District Office
Project No. L14PX00506
Project Size: 860 feet of sidewalk repair for Howery Island Accessibility Trail
Scope of Work: The scope of work included all clearing, grubbing, earthwork, placement of aggregate and concrete work to repair 860 feet of accessibility. The Medved Team mobilized on Tuesday. We set the forms, placed the aggregate, poured and finished the concrete and was de-mobilizing on Friday of the same week. The contracting officer was very pleased with the job and performance of our experienced crew. Any issues that were encountered were quickly resolved with no modifications or change orders. The project was completed within budget and ahead of schedule.

---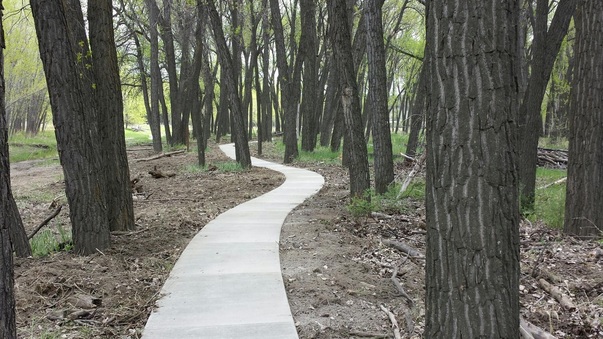 ---
Allison Guard Station Foundation Replacement in Malheur NF, Oregon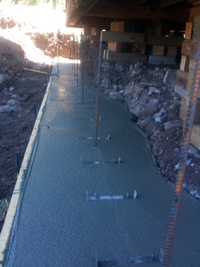 Project Owner: US Forest Service
Project No. AG-0489-C-10-0187
Project Size: 3 Historic Guard Station Buildings
Scope of Work: Medved Global Lifted the existing historic buildings then excavated and performed demolition and disposal of the foundation. We compacted, formed and poured new concrete footing and stem wall. After sufficient cure time we lowered the structures onto their new foundations. We attached stone veneer to the stem wall, re-attached all the utilities, installed French drain system and drain rock around each building, finish grade, backfilled, seeding, and built natural stone steps. This project was completed within budget, and ahead of schedule. There were no warranty issues or problems with the contract.



---